The previous 2 seasons of Super Junior Boys in City were great hits, and available copies were quickly snapped up. This latest photobook, Super Junior Boys in City Season 3 - Hong Kong will definitely be no exception.

Here's a sneak preview of how the brand new photobook may look like: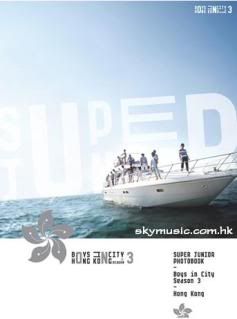 Credits: skymusic

As the picture of the cover has not been released officially yet, this may not be the final version, but you can be sure that the photobook will be of equal, if not better, quality than its predecessors.

With 436 pages full of all 13 of the Super Junior members, this is a must-have collectible for all Super Junior fans. You'll also receive 64 postcards and a 42-minute making-of DVD with Sung Min and Kyu Hyun as the narrators. The DVD comes with English subtitles which is a really nice touch for non-Korean speaking fans. You'll also get a pretty poster of the boys to brighten up your room wall!

Pre-order your copy of Super Junior Boys in City Season 3 - Hong Kong now! At US$64.99 with FREE shipping to anywhere in the world, it's great value for you to preserve the memories of all the 13 Super Junior members together!